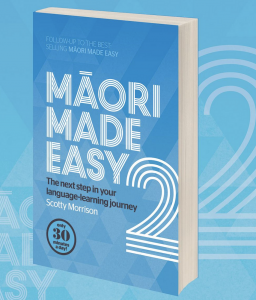 Scotty Morrison has created a follow up book to his Māori Made Easy with Māori Made Easy 2.  This new offering provides the next step for Māori language learners, with another 30 weeks of 30-minute-a-day learning, and online podcasts to support the lessons.
Here are the accompanying online podcast audio files for Māori Made Easy 2 for you to download.
The files are .mp3 with most of them being 7 Mb in size.  The title is a link for you to download the file or you can play using the player under each title.
Week 51. Ā me te Ō – Tohunga Reo – Tā Tīmoti Kāretū
Download Speak Māori Pāhorangi 1 advanced   (.mp3 19.8Mb)
Week 52. Te Ō – Tohunga Reo – Tā Tīmoti Kāretū
Download Speak Māori Pāhorangi 2 advanced (.mp3 20.8Mb)
Week 53. Te Ō – Tohunga Reo – Tā Tīmoti Kāretū
Download Speak Māori Pāhorangi 3 advanced (.mp3 20.9Mb)
Week 54. Te Ō – Tohunga Reo – Tā Tīmoti Kāretū
Download Speak Māori Pāhorangi 4 advanced (.mp3 20.6Mb)
Week 55. Te Ō – Tohunga Reo – Te Wharehuia Milroy
Download Speak Māori Pāhorangi 5 advanced  (.mp3 20.8Mb)
Week 56. Te Ā – Tohunga Reo – Te Wharehuia Milroy
Download Speak Māori Pāhorangi 6 advanced  (.mp3 19Mb)
Week 57. Te Ā – Tohunga Reo – Te Wharehuia Milroy
Download Speak Māori Pāhorangi 7 advanced (.mp3 18.1Mb)
Week 58. Kia Maori te reo – Tohunga Reo – Te Aue Davis
Download Speak Māori Pāhorangi 8 advanced (.mp3 19.9Mb)
Week 59. Taea / he hiahia noku – Tohunga Reo – Te Aue Davis
Download Speak Māori Pāhorangi 9 advanced (.mp3 19Mb)
Week 60. Kia v Ki te – Tohunga Reo – Tawhao Tioke
Download Speak Māori Pāhorangi 10 advanced (.mp3 20Mb)